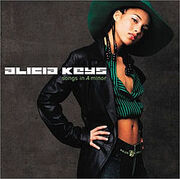 Songs in A Minor is the debut studio album by American recording artist Alicia Keys. It was released in the United States on June 5, 2001 by J Records. After graduating from high school, Keys signed with Columbia Records to begin her music career. She recorded an album in 1998 under the label, which they rejected. Her contract subsequently ended with Columbia after a dispute with the label, and Keys later signed with Clive Davis. An accomplished, classically-trained pianist, Keys wrote, arranged and produced a majority of the tracks on the album. Contrary to its title, the album contains only one song, "Jane Doe", in the key of A minor.
Upon its release, the album received generally positive reviews from music critics, who noted her ability to catch an old-school jazz sound and mix it with R&B and soul melodies. Keys was compared by critics to such artists as Aretha Franklin, Stevie Wonder, Billie Holiday, Prince and Lauryn Hill. The album earned Keys several awards and accolades, including five Grammy Awards at the 44th Grammy Awards. Songs in A Minor debuted at number one on the Billboard 200 chart, selling over 236,000 copies in its first week. It has sold over 6.2 million copies in the United States and twelve million copies worldwide.Rolling Stone magazine named Songs in A Minor the second best album of 2001, while ranking it number 95 on its list of the best albums of the 2000s decade.
Background and Recording
Edit
After graduating from the Professional Performing Arts School, Keys was accepted to Columbia University. She dropped out after four weeks to pursue her music career.[1] She signed a demo deal with Jermaine Dupri and his So So Def label. Keys co-wrote and recorded a song entitled "Dah Dee Dah (Sexy Thing)", which appeared on the soundtrack to the 1997 film, Men in Black. She also contributed to the So So Def Christmas recordings.[2] Keys began writing, producing and recording the album in 1998.[3] She completed it that same year, but it was rejected by Columbia Records. Keys explained that the producers she worked with would tell her to "just get in the booth and sing", which frustrated her.[4] Her record contract with Columbia ended after a dispute with the label. Keys then performed forClive Davis, who sensed a "special, unique" artist; he bought Keys contract from Columbia and signed her to Arista Records, which later disbanded.[2][5][6]
Following Davis to his newly formed J Records label, Keys rented an apartment and struggled to create an album. She began writing the song "Troubles" and came to a realization: "That's when the album started comin' together. Finally, I knew how to structure my feelings into something that made sense, something that can translate to people. That was a changing point. My confidence was up, way up."[7]Keys learned how to produce by asking questions to the producers and engineers; she wrote, arranged and produced a majority of the album.[4][8] She recorded the songs "Rock wit U" and "Rear View Mirror", which were featured on the soundtracks to the films Shaft(2000) and Dr. Dolittle 2 (2001), respectively.[9][10] One of the final songs Keys recorded was "Fallin'".[7] A total of 32 songs were recorded for the album.[11] Originally titled Soul Stories in A Minor, the title of the album was changed over concerns that it would limit exposure only to black radio stations.[4]
Composition
Edit
Keys incorporates classical piano with R&B, soul and jazz into the music ofSongs in A Minor.[2][4][13] With influences of classical piano, classic soul andEast Coast hip hop,[2] Keys described the album as a "fusion of my classical training, meshed with what I grew up listening to [...] things I've been exposed to and drawn from and my life experiences".[12] Jane Stevenson of Jam! described the music as "old-school urban sounds and attitude set against a backdrop of classical piano and sweet, warm vocals".[14] USA Today's Steve Jones wrote that Keys "taps into the blues, soul, jazz and even classical music to propel haunting melodies and hard-driving funk".[15] John Mulvey of Yahoo! Music called the album "a gorgeous and ambitious melding of classic soul structures and values to hyper-modern production technique".[16]
The album's opening track, "Piano & I", begins with a rendition of Ludwig van Beethoven's Moonlight Sonata, combined with a hip hopbeat.[17] The introduction is followed by "Girlfriend", which was produced by Jermaine Dupri.[2] Commended for its "crisp production",[18]the song samples Ol' Dirty Bastard's "Brooklyn Zoo".[2] Keys' cover of Prince's 1982 ballad "How Come U Don't Call Me Anymore?" (retitled "How Come You Don't Call Me") was inspired by a long-term relationship with a partner.[2][19] The music critic for PopMattersfelt that the song was credible, but fell short from the original and Stephanie Mills's 1980s cover.[2] "Fallin'", the gospel-driven lead single and often considered Keys's signature song,[20][21] contains a sample of James Brown's "It's a Man's Man's Man's World".[2] The song earned Keys comparisons to Aretha Franklin.[22]
"A Woman's Worth", the second single released from the album, is a "gospel-tinged"[23] song that recommends to men to show respect to their female partner.[24] "Jane Doe" is a funk-driven song, with backing vocals provided by Kandi Burruss.[2][24] "The Life", which elicits Curtis Mayfield's "Gimmie Your Love", describes Keys's "philosophy of life and struggle".[2] The song was compared to the work of the English band Sade.[23] "Mr. Man" contains elements Latin American music[23] and was described as a "sexy and soulful duet", in which Jimmy Cozier "adds his spice".[24] The album ends with the hidden track "Lovin' U", which Christian Ward of NMEcompared to works of the musical group The Supremes.[23
Release And Promotion
Edit
In advance of Songs in A Minor, "Girlfriend" was released to urban radio in early 2001 to "introduce" Keys.[2] In order to promote her, music executive Clive Davis booked Keys to The Tonight Show. Afterward, he sent the music video of the first single, "Fallin'", to MTV; "half the women had tears down their face" when the video finished playing.[11] "Fallin'" peaked at number one on the Billboard Hot 100and Hot R&B/Hip-Hop Songs charts, where the song remained atop the charts for six and four weeks, respectively.[25][26] It became the most played song in the United States at the time and was certified gold by the Recording Industry Association of America.[27][28] The album's second single, "A Woman's Worth", peaked at number three on the Billboard Hot 100.[29] The third single, "How Come You Don't Call Me" peaked at number 59 on the same chart,[30] while the fourth single, "Girlfriend", peaked at number 82 on the Hot R&B/Hip-Hop Songs chart.[31]
Davis wrote a letter to Oprah Winfrey, asking her to allow Keys, along with Jill Scott and India.Arie, to perform on her show.[11] The group of singers performed on The Oprah Winfrey Show, where Keys "wowed" the audience.[32] This led to the album's pre-orders to double that night.[4] From August to October 2001, Keys toured alongside recording artist Maxwell in promotion of the album.[33] Soon after, she embarked on her Songs in A Minor Tour.[25]
On June 28, 2011, Songs in A Minor was re-released as deluxe and collector's editions in commemoration of its 10th anniversary.[35] Both editions will feature previously unreleased material and a documentary chronicling the making of the original album. On June 26, 2011, at the BET Awards Keys performed a medley of songs which included "Typewriter", "A Woman's Worth" with Bruno Mars and "Maybach Music" with Rick Ross and "Fallin'". On June 28, 2011, Keys performed "Fallin'", "Butterflyz" and "Empire State of Mind (Part II) Broken Down" on Good Morning America.[36] BET aired "The Story So Far... Alicia Keys" special highlighting Alicia's 10 year career through her BET moments on June 28, 2011. On June 30, Keys performed Songs in A Minor in its entirety and telling stories of its recording in a show entitled "Piano & I: A One Night Only Event With Alicia Keys" at the Beacon Theatre in New York City.[35]
Reception
Edit
Critical response
Edit
Upon its release, Songs in A Minor received generally favorable reviews from music critics, who praised Keys for her classicist-influenced sound and musical maturity.[14][22][38][40][43][44] At Metacritic, which assigns a normalized rating out of 100 to reviews from mainstream critics, it received an average score of 78, based on 10 reviews.[37] Keys' sound was compared to other soul musicians, including Aretha Franklin,Stevie Wonder, Billie Holiday, Laura Nyro, Jill Scott, Prince and Lauryn Hill.[38][43][44] Sam Faulkner of NME described the balance between contemporary music and retrospective as "an act of pure genius".[41] Steve Jones of USA Today gave the album three out of four stars and praised Keys' musicianship, stating "Keys already has a musical, artistic and thematic maturity that many more experienced artists never achieve".[15] The Washington Post's Richard Harrington wrote favorably of Keys' musical influences on the album and expressed that she has "vocal maturity and writing instincts beyond her years".[44]PopMatters critic Mark Anthony Neal praised Keys' performance on the album and called it "a distinct and oft-times brilliant debut from an artist who clearly has a fine sense of her creative talents".[2] In his consumer guide column for The Village Voice, Robert Christgaugave Songs in A Minor an A– rating,[39] indicating "the kind of garden-variety good record that is the great luxury of musical micromarketing and overproduction. Anyone open to its aesthetic will enjoy more than half its tracks".[45]
Keys' vocal performance was lauded;[14][38][41] Sal Cinquemani of Slant Magazine declared that Keys' displayed a "powerful range, proving she can belt along with the best of them".[18] However, some also found her lyrics to be sub-par to her singing and musical ability.[38][43] The New Zealand Herald's Russell Baillie stated that Keys "might indicate abundant talent aligned to neatly reverential vintage soul style", but expressed that the songs "don't add up to anything particularly memorable".[22] Entertainment Weekly's Beth Johnson called the second half of the album slacked with "sad sack teen themes", but called it a promising album.[20] Rolling Stone's Barry Walters perceived her singing as more mature than her songwriting, but commended Keys for her "commanding presence" on the album.[43] Los Angeles Times writer Robert Hilburn gave the album three out of four stars and wrote that it "makes a convincing case that's she's going far—in both a commercial and creative sense".[40] In a retrospective review, Allmusic's Stephen Thomas Erlewineperceived the album's music as "rich enough to compensate for some thinness in the writing... which is a testament to Keys' skills as a musician", while calling it "a startling assured, successful debut that deserved its immediate acclaim and is already aging nicely".[38]Barry Walters wrote in a later article for Rolling Stone, "the album has aged well – excepting a drum-machine beat or two, it feels timeless."[46]
Commercial performance
Edit
Songs in A Minor debuted at number one on the US Billboard 200 chart, selling 236,000 copies in its first week.[47] Through word of mouth and promotion, the album sold 450,000 copies in its second week and remained atop the chart for three non-consecutive weeks.[7][48] The album became one of the bestselling albums of 2001.[49] It sold over 6.2 million copies in the United States,[50] where it was certified six times platinum by the Recording Industry Association of America.[51][52] Songs in A Minor sold over 12 million copies worldwide.[53] Billboard magazine ranked the album thirty-second in the decade-end recap of the most successful albums of the 2000s, while placing it twelfth in the R&B field.[54][55] The RIAA lists it as one of the Best Selling Albums of All Time.[56]
Accolades
Edit
Songs in A Minor led Keys to win five awards at the 2002 Grammy Awards: Song of the Year, Best Female R&B Vocal Performance, and Best R&B Song for "Fallin'", Best New Artist, and Best R&B Album; "Fallin'" was also nominated for Record of the Year. Keys became the second female solo artist to win five Grammy Awards in a single night, following Lauryn Hill at the 1999 Grammy Awards.[57] The album also won a NAACP Image Award for "Outstanding Album".[58] Keys was also named Best New Artist at the 2002 World Music Awards.[59] "Fallin'" was ranked at number 37 on VH1's 100 Greatest Songs of the Past 25 Years in 2003[60] and was ranked the 413th greatest song of all time by Blender magazine.[61] The album was ranked number two on the Rolling Stonemagazine's Top 10 of 2001, number 18 on The Village Voice's 2001 Pazz & Jop list, number 27 on Mojo magazine's Best 40 Albums of 2001 and was inducted to Q magazine's 100 Greatest Albums Ever.[62][63] In 2009, Rolling Stone named it the 95th greatest album of the past decade, while "Fallin'" ranked at number 62 on the magazine's "100 Best Songs of the Decade" list.[64][65]
Track listing
Edit
No.
Title
Writer(s)
Length
1.
"Piano & I"
Alicia Keys
1:52
2.
"Girlfriend"
Keys, Jermaine Dupri, Joshua Thompson
3:34
3.
"How Come You Don't Call Me"
Prince
3:57
4.
"Fallin'"
Keys
3:29
5.
"Troubles"
Keys, Kerry Brothers, Jr.
4:28
6.
"Rock wit U"
Keys, Taneisha Smith, Brothers
5:36
7.
"A Woman's Worth"
Keys, Erika Rose
5:02
8.
"Jane Doe"
Keys, Kandi Burruss
3:48
9.
"Goodbye"
Keys
4:20
10.
"The Life"
Keys, Smith, Brothers
5:25
11.
"Mr. Man" (featuring Jimmy Cozier)
Keys, Jimmy Cozier
4:09
12.
"Never Felt This Way" (Interlude)
Brian McKnight
2:01
13.
"Butterflyz"
Keys
4:08
14.
"Why Do I Feel So Sad"
Keys, Warryn Campbell
4:25
15.
"Caged Bird"
Keys
3:02
16.
"Lovin U" (hidden track)
Keys
3:49
Remixed & Unplugged in A MinorEdit
An album of remixes and live songs, Remixed & Unplugged in A Minor (issued in some countries as Songs in A Minor: Remixed & Unplugged), was released on October 22, 2002 by J Records. The album's live portion was edited from a performance recorded on August 10, 2002 at KeyArena in Seattle, Washington.
No.
Title
Writer(s)
Length
1.
"Girlfriend" (KrucialKeys Sista Girl Mix)
Keys, Dupri, Thompson
3:27
2.
"Gangsta Lovin'" (Eve featuring Alicia Keys)
Alisa Yarbrough, Jonah Ellis, Lonnie Simmons
3:59
3.
"Fallin'" (Remix featuring Busta Rhymes and Rampage)
Keys
3:56
4.
"A Woman's Worth" (Remix)
Keys, Rose
3:20
5.
"Butterflyz" (Roger's Release Mix)
Keys
3:54
6.
"Troubles" (J-Jay & Chris Lum Bootleg Mix)
Keys, Brothers
4:24
7.
"How Come You Don't Call Me" (NeptunesRemix)
Prince
4:23
8.
"Fallin'" (Ali Version)
Keys
4:30
9.
"Moonlight Sonata/L'Interludio, Ambivalente/Ain't Misbehavin'" (Live)
Beethoven, Ray Chew, Harry Brooks, Andy Razaf, Thomas Waller
2:22
10.
"Goodbye" (Live)
Keys
2:49
11.
"Never Felt This Way" (Live)
McKnight, Brandon Barnes
1:45
12.
"Butterflyz" (Live)
Keys
0:52
13.
"Caged Bird" (Live)
Keys
2:03
14.
"I Got a Little Something for You" (Live)
Keys
1:45
15.
"Someday We'll All Be Free" (Live)
Donny Hathaway, Edward Howard
10th Anniversary EditionEdit
10th Anniversary Edition is a 10th anniversary special edition reissue of the Alicia Keys album Songs in A Minor. Bonus songs include new songs from the era, alternate versions, live versions and more, hand-picked by Alicia, DVD includes a brand-new documentary on the making of album, and music videos. For the first time, a vinyl version of the original album will also be made available.
[edit]Deluxe Edition (2CD)Edit
Disc 1 – Original album
No.
Title
Length
Total length:
63:04
Disc 2 – Deluxe Edition CD
No.
Title
Length
1.
"A Woman's Worth" (Remix featuring Nas)
4:28
2.
"Juiciest" (Mixtape Version)
3:03
3.
"If I Was Your Woman" (Original Funky Demo – Previously unreleased)
2:59
4.
"Fallin'" (ALI Soundtrack Version)
4:26
5.
"Typewriter" (previously unreleased)
3:12
6.
"Butterflyz" (The Drumline Mix)
3:47
7.
"A Harlem Love Story (Fallin'/ A Woman's Worth)" (Enhanced bonus content; featuring new narration by Alicia Keys)
Collector's Edition (2CD/1DVD)
Edit
Disc 1 – Original album
No.
Title
Length
Total length:
63:04
Disc 2 – Collector's Edition CD
No.
Title
Length
1.
"A Woman's Worth" (Remix featuring Nas)
4:28
2.
"Juiciest" (Mixtape Version)
3:03
3.
"If I Was Your Woman" (Original Funky Demo – Previously unreleased)
2:59
4.
"Ghettoman" (previously unreleased)
4:17
5.
"Fallin'" (ALI Soundtrack Version)
4:26
6.
"Typewriter" (previously unreleased)
3:12
7.
"Butterflyz" (The Drumline Mix)
3:47
8.
"I Won't (Crazy World)" (previously unreleased)
3:43
9.
"Girlfriend" (KrucialKeys Sista Girl Mix – The UK Video Remix Edit) (previously unreleased)
3:51
10.
"I Got A Little Something" (Live In Seattle)
1:42
11.
"Piano Mashup" (Live In Seattle)
2:04
12.
"Light My Fire" (Live In Seattle)
3:27
Disc 3 – Collector's Edition DVD
No.
Title
Length
1.
"Songs in A Minor" (documentary)
45:37
2.
"A Harlem Love Story" (Fallin' / A Woman's Worth)
10:04
3.
"Girlfriend" (promotional video)
3:59
4.
"How Come You Don't Call Me" (promotional video)