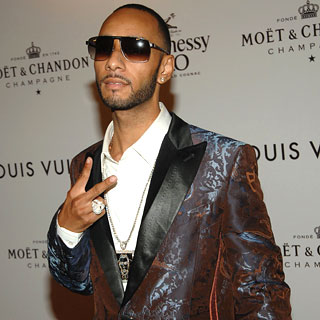 Kasseem David Dean (born September 13, 1978)[1], better known by his stage name,Swizz Beatz, is an American record producer, DJ, Grammy Award winning rapper andpainter. At the age of 17, he gained attention in the hip-hop world through his friendship with rapper DMX. Grady Spivey and rapper Cassidy helped launch his label Full Surface Records. He is married to R&B superstar Alicia Keys and has one child with her, as well as three other children. About.com ranked him #27 on its list of the "Top 50 Greatest Hip-Hop Producers,"[2] while The Source placed him on its list of the 20 greatest producers in the magazine's twenty-year history.[3] Kanye West called him "the best rap producer of all time."[4]
In May 2009, it was confirmed that Swizz Beatz and Alicia Keys were in a relationship after almost a year of speculation. In May 2010 Beatz confirmed he was engaged to Alicia Keys, and that she was pregnant with Beatz' fourth, and her first child.[36] During the time of the 2010 FIFA World Cup, the couple took part of a union and had the unborn child blessed in a Zulu ceremony, which took place in the Illovo suburb ofJohannesburg, South Africa.[37] Keys and Swizz Beatz held a wedding celebration on the French occupied island of Corsica on July 31, 2010.[38] Alicia Keys gave birth to their son, Egypt Daoud Ibarr Dean, on October 14, 2010.[39][40]
Ad blocker interference detected!
Wikia is a free-to-use site that makes money from advertising. We have a modified experience for viewers using ad blockers

Wikia is not accessible if you've made further modifications. Remove the custom ad blocker rule(s) and the page will load as expected.